Distribution List
CRESTFALLEN – A SLEEPY HISTORY (RE-RELEASED!) RM5PPD/S$5PPD/U$5PPD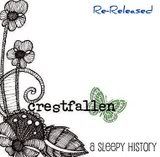 A release of this 90's-style-hardcore outfits is now ready for sale, again. Influenced by great bands such as Refused, Abhinanda, Snapcase, and mostly Swedish heroes of fast-tempo new school hardcore. This CD-R serves as a collector's item with a nice homemade cut-and-paste CD cover, contained 3 songs from earlier release (with the same title) plus 2 un-released songs of very raw recording session. A melodic hardcore with lots of rockish touches here and there, the chuga-chuga that remind everyone of the late 90's moshpit slamdances, and how the band survive avoiding metallic imitations. A must for those who still romanticizing 90's vision of the underground hardcore.
SALLY FAERIE – FOR THE DREAMERS (demo) RM5PPD/S$5PPD/U$5PPD
Finally, after couple years of going astray and disappearance, they apparently found the path. This girl-fronted group appeared once in the ..:namespace prefix = st1 ns = "urn:schemas-microsoft-com:office:smarttags" />Singapore's Fruit Records Comp. and then lost their sight of what's going on with the passions. Well, rise from the demise of the Batu Pahat's indie-rock scene, Sally Faerie brought to you a legacy of dreamy-driven-power-pop, as they classified, to your ears. With nice and sweet melodious vocals, blend with post-punk attitude of riffs and bass lines, complete with rock & roll solos, you'll find them pretty much close to Wheatus meets Ash meets post-Weezer. Also come with a nice homemade cover, totally D.I.Y. 3 songs of radio-friendly tunes plus one instrumental for karaoke, if you want to. Haha.
Also On Sales :
Carbon Fourteen – Too Fast Too Punx (demo) RM5PPD/S$5PPD/U$5PPD
Pontian's punkrocker, sounded like most Fat Wreck bands. 2 songs
Dark Horror – Los Muertos RM15PPD/S$10PPD/U$10PPD
Ampang metalheads, fans of Iron Maiden must dig this. A debut album that will totally blast your heads off. 10 songs with one re-arrange of cover song from Ramones.
Explicit/Fatal Over - Southern Punk Attack Split CD RM10PPD/S$10PPD/U$10PPD
Both are chaos punk, with straight to the face lyrics regarding punk rock morality on alcoholism, anti-zionism, police brutality and so on. Released by RDL Entertainment.
A.B.M.S 696 – Hell, Metal, Drugs, Sex And Beer! RM10PPD/S$10PPD/U$10PPD
Oh, fuckin black metal, man. Satan worshiper? Dig grave! Released also by RDL Entertainment.
Re-Zine 1 RM4PPD/S$2PPD/U$2PPD
A good comic-oriented zine done by a self-proclaimed underground artist (yeah?) from Ampang, the Taman Melur Barrios, as they called it. As usual, got several interviews with the bands (Dewata, Muck, Decibel, Endthrowphy,etc), articles, gig/cd/tape reviews and yeah, cartoons for sure.